A while ago I participated in the Super Chef Challenge 2015 organized by Superlife Co!
Did not expect myself to be chosen as one of the top 3 finalists, it was indeed a privilege :')
More details on my Dayre but it was a humbling experience and it was lovely meeting so many new people :)
I've always been a huge fan of superfoods, known for their natural healing powers and amazing benefits to our health and well-being. Incorporating them into my meals has been a daily affair and i'm constantly thinking/researching of new ways to introduce them to my loved ones :) Through this event, I learned how important it is to choose the right products for different purposes, and how to balance them according to your daily needs!
P.S. pardon the bad quality photos :( Did not bring my camera that day sigh
My dish for that night, which we were given 1 hour to prepare and cook!
Mexican beef taco quinoa with lean ground beef, peppers, corn, onion, tomatoes, mushrooms, spinach, black beans, kidney beans, organic tomato puree and seasoned with cumin, oregano, cayenne pepper and paprika.
Baked with 5 different cheeses and coconut bread crumbs :) All cooked using coconut oil! Also served with purple cabbage, avocadoes, tortilla chips and a lemon cumin yogurt dip :)
1 large white onion, finely chopped
¾ cup sliced shiitake/white button/brown button mushrooms
½ yellow bell pepper, chopped
½ orange bell pepper, chopped
1 pint of cherry tomatoes
½ cup of canned cooked black beans, rinsed and drained
½ cup of canned cooked kidney beans, rinsed and drained
1 cup organic chunky tomato puree
Cumin, oregano, smoked paprika, cayenne pepper - 1 teaspoon each
1/2 cup parmesan, shredded
1/2 cup sharp red cheddar, shredded
1/2 cup white cheddar, shredded
1/2 cup monterey jack cheese, shredded
1/2 cup mozzarella, shredded
1/2 cup panko bread crumbs
1/4 cup desiccated coconut
Toppings:
1/2 cup shredded purple cabbage
1 packet of tortilla chips
1. Preheat oven to 180 degree Celsius. Grease a round baking dish/cast iron skillet with cooking spray.
2. In a medium pot, add quinoa, water and boil until cooked. Leave to cool.
3. Heat a large skillet over medium high heat. Once hot, add coconut oil and then the onions, garlic, bell peppers, mushrooms and cherry tomatoes. Cook until veggies are soft then stir in baby spinach. Remove from skillet.
4. To the skillet, add lean ground beef and cook for 2 minutes.
5. Stir in tomato puree, cumin, paprika, oregano, cayenne, black pepper and a squirt of lime juice.
6. Add cooked quinoa, black beans & kidney beans.
7. Stir in shredded parmesan cheese and cooked vegetables.
8. Transfer beef quinoa into the prepared baking dish/cast iron skillet.
9. Top with the remaining shredded cheese, panko bread crumbs, coconut flakes and coconut oil.
10. Bake for 15 minutes or until cheese is golden.
11. Remove from the oven and top with chives, tomato, shredded purple cabbage, avocado and Greek yogurt. Serve with tortilla chips.
The cooking part was pretty enjoyable, though definitely nerve-wrecking at the same time! I'm really thankful for the tremendous help and support given by the organizers & staff there during the entire process, couldn't have done it without them :') It was an honor cooking alongside Lirong & Melissa too! Both gorgeous and incredibly talented home chefs <3
Thank you to those who tried my food and gave me really sweet feedback/encouragement, i truly appreciate it :')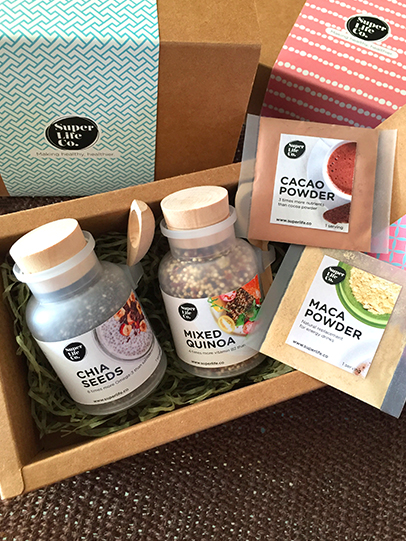 Superlife Co. is a local e-business launched in November 2014 which offers an avenue for enthusiasts to purchase premium, 100 percent organic products such as chia seeds, quinoa, maca and cacao powders, and more, at the touch of a button!
This portal also gives easy-to-follow solutions for Weight Loss, Anti-Ageing, Energy-Boosting and Wellness; as well as simple and practical recipes using superfoods.
Currently, the company sources globally from Europe, USA, Australia and the Andes Mountains bordering Peru. All the products sold are 100 percent organic and USDA and Euro Leaf certified!

Recently Superlife Co. team took a new and exciting step forward in the business – they acquired their own organic farm in Peru. The farm located in Andes Mountain is free of pollutants and industrialisation :) You can be rest assured that their products are of high quality, and definitely one of the best ones in the market so far.
I've recently purchased several items on their site (thanks to the gift voucher!) and can't wait to experiment with more healthy recipes using these superior products :)